Shutterbug at Large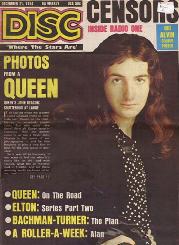 This big-size amazing (yes, I'm AMAZED! I've never thought that he appeared on such a front page like this...!) photo was from an American magazine "DISC", Dec. 21, 1974.
QUEEN'S JOHN DEACON: SUTTERBUG AT LARGE
"It all started when we wanted some unusual shots to illustrate our 'Queen on the road' feature -- unposed, candid shots. But who could take them? After all, Queen were in Germany. Then the answer came to us like a flash! John Deacon is the name of our photographer -- and he also happens to play a nice line in bass for the very group in question..."
...That's Great.
The content of this article is a report of their German tour by Rosemary Horide. (I omit it, because there's few description about John.)
Here are the pix taken by John himself.
| | |
| --- | --- |
| | D'Artagnan has nothing on me. |
| | I do wish they'd get on with this sound check. |
| | Mirror, mirror on the wall, who's the fairest of them all? |
| | My eyeliner just won't go right. |
| | I'll just have a nap while Jack stands guard. |
| | Paul who? |
| | Mr. Mercury, looking occupied. |
I don't know whether these comments of pix are also John's words or not. But...it's very funny.
Then, the last one. Do you recognise this...?
| | |
| --- | --- |
| | To whom does this belong? |
Well, my friends say this is Roger. What do you think?
This article continues to next week. Does anyone have Part Two? If you have, please let me know!
---