Supporting the band's base, he skillfully handles tasteful melody
John Deacon is a very profound bassist. His bass sound is too rich to express in a word: so delicate, melancholic somehow, sometimes rhythmical and dynamic. Supporting the band's base, he skillfully handles tasteful melody. In Queen music where the essence of various genres (rock, pops, funk, opera, chanson etc.) is blended, his bass can be "singing" exactly. Especially, the superior feature of his play is to counteract excessive heaviness by his soft sound. Sometimes stays in a pretty high tone, but all this is for vocal melody. While Roger Taylor (d) often beats quavers simply (Mr Eight Beat Drummer, indeed), John set an approach to them by semiquavers. In this way, we can say that John takes charge of the plus alpha of their groovy sounds.
Although "Finger-picking with precision" is a common image of his play, sometimes he uses a pick or shows mute play and also chopper(thumb-picking). His main picking style is to fix the thumb of the right hand on the pickup. When storing up or punching tightly, he also picks with the forefinger and the middle finger at the same time. By taking up the contact surface fully between string and finger and cutting overtone of high range, he seems to emphasize low mid range.
Today we come across Queen music in various scenes. Every time we hear them, we cannot be deeply impressed by John's COOL phrase and melody. It is not difficult to hear his bass line on albums of later years because it was recorded louder than before, but it IS a bit difficult to copy his nuance. Has various sides as a bassist and an artist. Talented and accomplished. Such natures make John Deacon attractive.
*Click for a bigger image*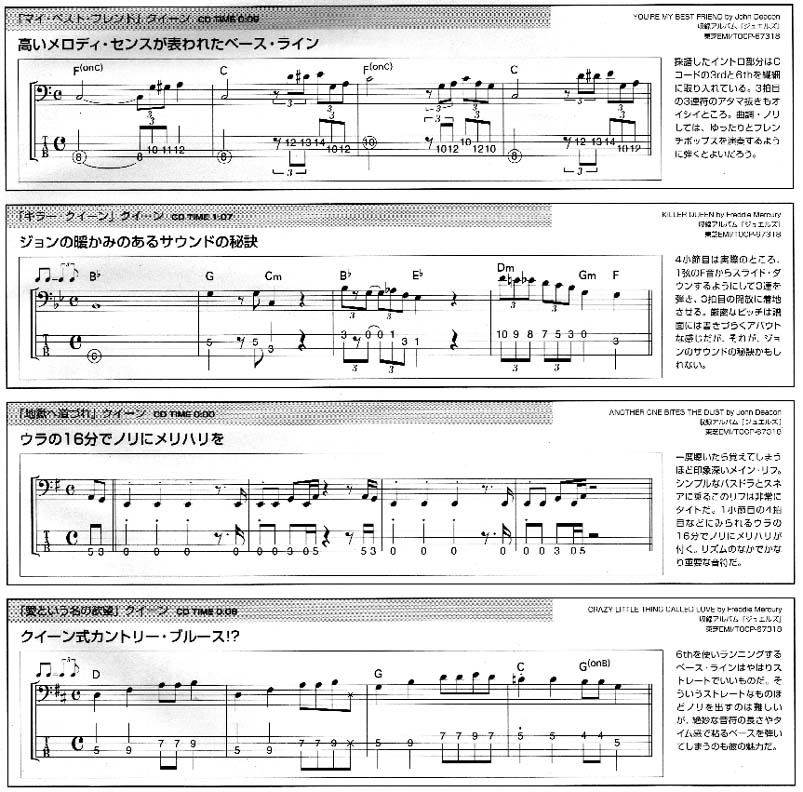 My Best Friend CD TIME 0:09
The bass line shows good melody sense

The intro takes 3rd and 6th of chord C delicately. The eighth rest of the triplet on the third rhythm brings a cool accent. You'd better play it calmly like French pops.

Killer Queen CD TIME 1:07
The key to his warm-hearted sound

On the fourth measure, actually play the triplet sliding down from F of the first string and land the quarter rest of the third rhythm. It is a bit sloppy because it's hard to note down strictly, but that's possibly the key to John's sound.

Another One Bites The Dust CD TIME 0:00
Control the groovy pace with the lining semiquaver

Striking main riff which can be remembered at just one audition. Joined with simple bass drum and snare, this riff is very tight. The lining semiquaver which can be seen the forth rhythm of the first measure makes the tune groovy. Very important note in the rhythm.

Crazy Little Thing Called Love CD TIME 0:06
A country-blues style of Queen?

Nice to hear the straight bass line running with 6th. Although it is a bit hard for such a straight line to be rhythmical, John easily plays sticky bass with exquisite timing.