Chapter 10 : Pretentious Even...(p.188--p.191)
Nigel Bullen travelled to London on the day before the wedding for a briefing from John Deacon. He lived in a flat close to Parsons Green Tube station in Fulham and their conversation was frequently interrupted by the tremor of Tube trains passing close by. They discussed the wedding arrangements over a bottle of Southern Comfort after a meal at a local restaurant.
The wedding took place at a Carmelite church in Kensington Church Street. Veronica's family were members of this order of Catholicism, named after Mount Carmel in Palestine, and dedicated to a strictly orthodox application of the faith. Carmelite nuns, once inducted, had, until very recently, to maintain a vow of complete silence.
It was a long wedding service addressed by a friar, but the proceedings had been lightened beforehand by the arrival of Freddie Mercury. Nigel Bullen: "The doors burst open at the back of the church and all we could see was this silhouette of a figure with a girl on each arm, I think one of them was Mary Austin. At first I thought it was the bride, but then I realised it was Freddie! He was wearing a feather boa and everyone in the room turned to look. It was some entrance."
The reception was held at Veronica's flat in Hammersmith and Nigel, doing his utmost in torrid circumstances, was trying to get too many people into not enough cars. He suddenly hit upon an idea. "We only had a couple of cars and it was my job to make sure everyone got to the reception," says Bullen. "Freddie was in this stretch limo, his own car I think, with these two girls. I stuck my head through the window and said, 'Room for a few more?' We crammed all these people in. He didn't say anything, but his face was a picture and it was really comical. His feather boa must have got well crushed."
Nigel Bullen remained fairly close to John Deacon in the mid-Seventies, often staying with him and Veronica, enjoying the dashes of affluence, like being driven to Queen's London shows in a chauffeur driven Jaguar. Eventually, the two friends drifted apart. Nigel and Ruth Bullen watched impotently as a gauze was placed over John Deacon, fame spiriting him away like an apparition. Nigel would call on him whenever he was in London but John was never around. He was away, touring, or 'cooking up business' as Veronica would tell them. And when they were infrequently reunited it was compromised, a shade awkward, no longer the same as before; a few stolen moments backstage, John's mind apparently on a thousand other things. The Bullens did not know how to respond, there was no formal training in maintaining a friendship altered by fame. If they chased him to ground they felt like sycophants, anxious to touch the cloth, gluttons for glamour, but if they ignored him they wondered whether John felt shunned, his past deserting him.
Ruth Bullen used to sometimes see John Deacon's mother, Molly Deacon, in Oadby and she told her that she was concerned about her son. "I think she used to worry about him a lot," she said. "She said all the pressure used to make him a bit ill. Veronica said when he came back off a tour he couldn't revert to being a normal person, playing with the kids, taking them to the park and things. She said it was non-stop, he just couldn't stop. I don't suppose you can live the life he has without paying a price."
Finally, on Queen's UK tour of 1985(?), Nigel Bullen accepted that the chasm between his own life and John Deacon's was too vast to span. He attended the massively popular shows in Leeds, Birmingham and London and was astounded by how the behemoth of stardom now held his former school friend. "There was so much security, it was unbelievable," said Bullen. "Even if you knew him, like his mum for example, she stll had to go through all the security channels. I saw her waiting to be let backstage into certain places. Once we were in with him it was fine, we had a drink and a chat. He'd click his fingers and ask what we wanted and someone would get it for us. There were all these hangers-on, just making sure he was OK. It was very unnatural. It was such a lot of organisation just to make sure that four men were kept happy all of the time. They were there for his every whim. He had changed from how I remembered him. He had lost some of that enthusiasm of the early Seventies, and had an attitude of, 'Well, we've made it now.' I don't think you could possibly go through all that without changing though."
After sampling the opulence of backstage Queen in 1985(?), Nigel Bullen inevitably found it an anti-climax to return to everyday life at his job in the textile industry. He was twice made redundant in the Eighties and now runs his own small textile company with Ruth on a draughty industrial estate just a few miles from Oadby. The Christmas cards from the Bullens to the Deacons and vice versa no longer pass in the post in December and the two friends have not met for nearly a decade. Nigel is nonchalant, he's lost touch with others from his past, life goes on. As he looks out from under the sign 'N. Bullen Textiles', he's convinced that one of the other units, on the other side of the car park and the wire perimeter fence, could very well have been: 'J. Deacon Electronics'.
[Pretentious Even... : THE END]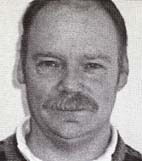 Nigel Bullen, The Opposition's drummer and John's friend.