For some it's progress, but for others it's a sign of getting old. Horrific as it may seem, there's a whole generation out there who think that Another One Bites The Dust was written for ITV's Saturday nigh musclethon 'Gladiators'. And little wonder - every time Hunter or Wolf pounds the latest seven-stone contender off the Pugilator, that distinctive bass line comes thumping through the screen, as backing music to the victor's clenched fist, while baying audiences are shown howling the title. Not that John Deacon's worried, of course. As writer of the song he had to give permission for its inclusion in the tacky sweatfest, for which he receives a more than healthy royalty cheque after every episode. But isn't it just a little disturbing to think that one of the biggest selling singles in the world every should have come to this?
In 1980 Another One Bites The Dust reigned at Number One in the American charts for what seemed like forever, eventually outselling every other chart-topper that year - including Queen's own Crazy Little Thing Called Love. It was big; it was bigger than big, it was huge. It was also remarkable for two things. One, it was only the third single John Deacon had ever written - not bad considering he'd penned just nine full songs in total. And two, while the other singles from 'The Game' - Brian's Save Me and Freddie's Play The Game - were standard Queen fare, this song went places the band never ventured after dark. It was funky!
"I listened to a lot of soul music when I was in school," John recalls, "and I've always been interested in that sort of music. I'd been wanting to do a track like Another One Bites The Dust for a while, but originally all I had was the line and the bass riff. Gradually I filled it in and the band added ideas. I could hear it as a song for dancing but had no idea it would become as big as it did. The song got picked up off our album and some of the black radio stations in the US started playing it, which we've never had before." In the end it was a famous fan who swayed the vote: "Michael Jackson actually suggested we release it as a single. He was a fan of ours and used to come to our shows."
For American audiences the song represented Queen's finest hour, capitalising on earlier successes like We Are The Champions and Killer Queen, but its groove-oriented origins remain as mysterious now as they did then. The man responsible for the most famous bass line ever (okay, it sounds a little like Chic's Good Times) is just about the unlikeliest funk writer imaginable: he's white, he's a contented family man (into his third decade of marriage!) and he's as middle class as they come. So where did he come from?
John Deacon's background is one of old-fashioned hard graft and erudition. Strictly middle class, he sailed through exam after exam at his local Leicester schools, easily finding time to fulfil his hobby of music. Like many others, he was bowled over by the Beatles and in 1963, aged just 12, he replaced his old toy 'Tommy Steele' guitar with his first real instrument - a 6-string acoustic. At this stage it was Lennon who John emulated, and he quickly became an accomplished rhythm player (although before long he had developed a fingerpicking style that Lennon could only have dreamed of). Gifted with electronics - he was already building his own radios - he initially joined his first group, The Opposition, as a roadie-cum-electrician, before taking his place on stage as rhythm guitarist in September 1965.
Despite his preference for Lennon, it was Paul McCartney's career that John was destined to follow. After The Opposition's bass player proved less that proficient, it fell to John to play the bass notes on the bottom strings of his guitar. This worked for a while, but in the end, like McCartney a couple of years earlier, he was encouraged to take up the instrument full time to help the band out. Buying a £60 EKO bass in Cox's music shop in Leicester, he made his low end debut in spring 1966 - and never looked back.
Three years later John changed direction again, this time leaving the group (which had become The New Opposition then Art) to take up a degree course in London. That wasn't all he took up: after meeting Brian May and Roger Taylor at a party he was asked to audition at Imperial College for their band. The band's name was Queen.
He was the perfect choice for the flamboyant group: "In the early days I used to be very quiet because I always felt I was the new boy. But I think I fitted in because of that. They'd tried several other bass players before me, but their personalities seemed to clash. I was all right because I wasn't going to upstage Brian or Freddie."
In hindsight, Queen's path to taking their throne in rock's court was spectacular, but in truth it was painful and laborious. Their eponymous debut album didn't come out for two years after it was finished, and even then it failed to chart. Seven Seas of Rhye, from the follow-up LP 'Queen II', went Top 10 in Britain, but only with the third album did the band really begin to be taken seriously. Even John, who still thought of music as a hobby, was persuaded: "I was possibly the one person in the group who could look at it from the outside," he remembers, "because I came in as the fourth person in the band. I knew there was something there, but I wasn't convinced of it until possibly the 'Sheer Heart Attack' album. A lot of people thought we were just a heavy metal group but Killer Queen showed a completely new side to the band."
Another new side was demonstrated by John's first ever composition for the group, a jaunty pop number called Misfire. For this track he played acoustic guitar as well as supplying a perky bass riff that dominates the song's fadeout. He also shared a 25% credit on the jam track Stone Cold Crazy, later to be covered by Metallica on record and stage, and performed by James Hetfield with Queen at the Freddie Mercury Tribute Concert in 1992. Remembering the frenetic sessions for the track and its frantic pace, John reveals, "It was very fast and hard to play."
1975 was a pivotal year for Queen and John in particular. While most of the world went mad about the Mercury composition Bohemian Rhapsody, the band were just as amazed at the bass player's contribution to the album, a little number called You're My Best Friend. "John just came from nowhere with this song," Brian has admitted. "It was only the second song he'd written for the group and it was just this perfect pop song." The public agreed, and the song reached number Seven in the UK - higher than anything written by the already prolific May.
As well as his Fender Precision, John contributed electric piano to the song (he also did some double bass work for a Brian track called 39), which he mimes in the song's accompanying promo - or 'video' as they came to be known after Bohemian Rhapsody's groundbreaking achievement. The classic bass mentality, John is as laid-back as ever about the band's place in history: "People used to have clips before but they were often shot on film. It was quite accidental. We were touring at the time and we knew we wouldn't be able to get to record 'Top Of The Pops' on the Wednesday. Our managers had a mobile unit, so it was actually shot on video in about four hours!"
Despite his single success, John was still limited to one track on the next album, 'Day At The Races'. The next two long players saw both he and drummer Roger Taylor allowed two songs each - still half of Mercury and May's allowance - and buy the 80's the illusion of four close friends was becoming strained. "We get on well in the studio and on stage together," Deacon confessed in 1981, "but we don't see that much of each other socially when we aren't working. We all have our own friends. For instance, I would never think of going round to Fred's house and he would never come to mine. We're poles apart in that sense." Fights over songs only made matters worse: "We split all our earnings from records and tours four ways. The rows come when we have to decide whose songs go on the albums and who gets the B-sides of the singles since B-sides earn the same royalty rate as the hit side."
Getting his songs on an album was one thing; keeping them recognisable was another battle, as John found on the 1982 album 'Hot Space'. Despite the outrageous success of his recent funk experiment (which Weird Al Yankowicz was to parody as Another One Rides The Bus), and the fact that as a band Queen had tackled just about every style going, his latest black-influenced song was being forced into more conventional shape, as Brian admits: "In one track called Back Chat there wasn't going to be a guitar solo because John, who wrote the song, had gone perhaps more violently black than the rest of us. We had lots of arguments about it, and what he was heading for in his tracks was a totally non-compromise situation, doing black stuff as R&B artists would do it with no concessions to our methods at all. I was trying to edge him back towards the central path and get a bit of heaviness into it. So one night I said I wanted to see what I could add to it - it's called Back Chat and it should have some guts - and he agreed, so I went in and tried a few things."
Against John alone, the guitarist won; but when the bassist united with the all-conquering singer, there was no opposition. Cool Cat, the pair's first collaboration, found a lazy bass riff, leading the way, with Freddie scatting jazzily over the top. Mellow and distinctly un-Queen, the original version features David Bowie on backing vocals (check those bootlegs). Bowie had arrived at the band's Swiss studios in Montreux and stayed to feature on another bass-driven track - one that actually made it onto the album. It was Under Pressure and it reached Number One in the UK charts (unlike Back Chat which stifled at 40).
If a Deacon song could be said to have crowned Queen's US career in 1980, it was another of his compositions which effectively killed them off. I Want to Break Free, from 1984's return-to-form album, 'The Works' was a massive seller world-wide, largely aided by its hilarious video of al four band members in drag. Unfortunately the fact that it was a spoof on 'Coronation Street' was lost on Americans who thought the butch rockers of four years earlier had gone mad. They would never have another hit there in Freddie's lifetime.
Wherever it went, it seems, the song caused uproar. South America, Queen's honorary home since their record-breaking excursion there in 1980/1, had seen the lyrics as something more than a love affair gone wrong. For them it was a campaigning song for freedom - so when Freddie appeared in front of 200,000 people at the Rock in Rio festival in 1985 wearing false breasts, he was reportedly booed and pelted until he removed the offending mammaries.
That incident aside, the South American excursion was even better received than their first trip when things had been quite scary for a while:
"We only just made it to our cars in time, rattled and bruised," John recalls. "We had only gone a few hundred yards when the driver stopped or petrol. Within seconds the car was surrounded by girls battering on the windows and roof. The driver had no idea what was going on; they'd never had to deal with anything like it before."
If the band thought the Rock in Rio was big, another concert they were to perform in 1985 saw them steal the day from some of the world's biggest acts in front of half a billion people: Live Aid. "We didn't know bob Geldof at all," John remembers. "When Do They Know It's Christmas was out, that was a lot of the newer acts. For the gig, he wanted to get a lot of the established acts. Our first reaction was, we didn't know - 20 minutes, no soundcheck?!"
"When it became apparent that it was going to happen, we'd just finished touring Japan and ended up having a meal in the hotel discussing whether we should do it ... and we said yes."
"It was the one day that I was proud to be involved in the music business - a lot of days you certainly don't feel that! But the day was fabulous, people forgot that element of competitiveness... it was a good morale booster for us too, because it showed us the strength of support we had in England, and it showed us what we had to offer as a band."
The day also showed Deacon's characteristic shyness. He had been listed to meet the Prince and Princess of Wales before the show and to join them in the Royal Box. In the end... "I was too nervous of meeting Princess Di and so Spider, our roadie, met her in my place - he shook hands with her and everything. The pictures made all the front pages and he's now the most famous roadie in the world!"
By the mid 80's, the collaboration between singer and bassist became more pronounced. Released in 1986, 'A Kind Of Magic' featured two compositions credited to Mercury/Deacon. Following the groove set down on Cool Cat, the new efforts blended John's funk leanings with Freddie's innate pop sensibilities; Pain Is So Close To Pleasure in particular saw Freddie giving his best Diana Ross impression to keep up with John's bass-driven tune, while Friends Will Be Friends was more standard Queen anthem fare, scoring a decent hit for the band.
The next studio album, 'The Miracle', found the partnership again working - sort of, but with neither willing to take credit, especially for My Baby Does Me: "John came up with the bass line for that one," Freddie recalled in a BBC radio show in 1989. "No I didn't, it was you!" John hit back. Joking aside, with up to three years separating album releases, it is the writing process which has kept him sane: "If I'd just been a bass player all my life with the band, if that had been all my input, I wouldn't be as satisfied as I am because I only consider that as part of what I do. There's the songwriting and also being involved in the decision making processes - arguing or whatever - which is nice; to be able to have a part in the band's destiny."
Recording of the band's next album began as soon as 'The Miracle' was completed; by this stage Freddie knew his days were numbered, although he never admitted it to the group. Not only did he live to complete 'Innuendo', but he also saw the album's release, the release of a second 'Greatest Hits' package as well as finding the energy to lay down basic tracks for what would be the last Queen recording: 1995's 'Made In Heaven'.
The singer's death in November 1991 has proved a brutal blow to Deacon. "As far as we are concerned, this is it," he insists. "There is no point carrying on. It is impossible to replace Freddie." With Queen retired he seems unlikely to forge a solo career like May and Taylor - "I can't sing; it's the one thing I wish I could do, because it would make songwriting so much easier!" - although he once released a solo effort under the group name of The Immortals (he wrote and recorded 'No Turning Back' as the theme to the 1986 'Biggles' remake).
Sightings of Deacon are rare. Queen's quarterly fan club magazine regularly lists his activities as 'holidaying with his family in Biarritz' - if they include him at all. Over the years he has done little session work, and then usually on Queen solo efforts: re-mixing Roger's I Cry For You, playing on Freddie's How Can I Go On, helping out Brian's proteges Anita Dobson and Minako Honda. Among his few outside involvements he also worked with Hot Chocolate's Errol Brown on a single, played on Elton John's 'Ice On Fire' and 'Leather Jackets' albums and - quite inexplicably - appeared wearing a blue wig in a video for Morris Minor And The Majors!
Since the Freddie Mercury Tribute Concert of 1992, Deacon's public appearances can be counted on one hand. Record industry bigwigs might have seen him backing such players as Genesis and Pink Floyd at an EMI private party; but fans would have had to have been at the Shepherd's Bush Empire last year to see his short guest spot with the Spike Edney All Stars (a group of satellite Queen players, supported by the fan club). John walked on late in the evening, oblivious to the phenomenal response from the crowd, and played for a couple of non-Queen soul numbers; unfathomably he left as quietly as he'd arrived - before the band launched into Crazy Little Thing Called Love - and was the only one of the 30-odd band who didn't return for an encore.
In many ways John Deacon has achieved the ideal balance - a strong family life; riches beyond most mortal dreams; huge hit singles; recognition from his peers as a songwriter - and yet can still walk down most street unrecognised. It's a long way from where he was in 1971:"I had just started doing a Degree in Electronics (he eventually got a first) and I was in the band. The band took off so I went with it - at least I was guaranteed 20 quid a week, so it was worth having a go. Then it seemed to snowball and take over my life. And it's been like that ever since."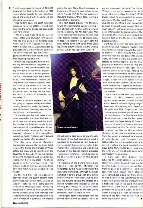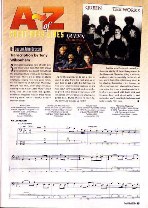 THE WORKS
Certain early publicity stills from the 70s showed John posing with a Fender Jazz, but considering they also depict Brian wielding a Strat and not his trademark 'Fireplace', their veracity can be doubted. In essence he was - and is - a Precision man, sporting variously shaded varieties over the last 25 years. Throughout the 70s a sunburst Fender was his main squeeze, although on stage it had to share the spotlight with the sunburst MusicMan (and occasionally a triangle). Only when his hair got shorter (for 'News Of The World' onwards) was a stripped natural finish selected instead; this was to be around for almost a decade, right through the 'Works' tour and even appearing at Live Aid. The 'Magic' tour of '86 saw a black Precision wheeled out for the first time, although it didn't always make the video shoots: Friends Will Be Friends saw John struggling with a John Entwistle-designed Warwick Buzzard; One Vision, I Want It All and Headlong featured a red Precision; but most interestingly, Princes Of The Universe, Breakthru, Invisible Man and Scandal all saw John wielding a Giffin natural wood finish bass, custom-built for him by Roger Giffin. Essentially a 2-pickup Precision clone, it features a ghost inlay on the 12th fret. Those 4-strings aside, Who Wants To Live Forever saw a double bass in operation, A Kind Of Magic a banjo and One Vision a set of drums.
Whatever the brand of bass, the style hasn't altered. Extremely able but rarely flash, John never uses a plectrum; just his fingers hooked over the instrument which is usually held at 45 degrees - and often played one-legged (see 'Queen Live At Wembley' for proof!) * The Sunburst and the Black precision are the same bass (see Bass'es Bassinet)
A to Z of Great Bass Lines (by Tony Wilsonham)
EXAMPLES : Killer Queen / Another One Bites The Dust / Bicycle Race / Bohemian Rhapsody
Some good examples here of both pick and finger use; I think that John shows great versatility as a bassist throughout the broad spectrum of songs in the Queen repertoire. There are all kind of styles employed, ranging from long pedal notes, i.e. the beginning of Bohemian Rhapsody; straight rock lines, Don't Stop Me Now; walking lines, Crazy Little Thing Called Love, and phrases with the guitar, Bohemian Rhapsody, most of these noises coming from John's faithful Fender Precision basses.
As for the playing, try to get a nice fat sound, so play from the neck pick-up of your bass to get a tight but full low end from your amp (nothing squawky or á l&agrave Jaco about John's playing), and remember to give it some! Being a for piece, with sometimes only 3 instruments playing, i.e. guitar, bass, drums, there's no room for 'shy bairns', as they say up north!
Practise your Pentatonics as well, there are plenty of these flying around in the Queen set. The other thing is attitude, as always. John is essentially the band cool cat, and I think this reflects very much in his playing. Remember - less is more, so when you hear John playing lots of notes, you know there was a good reason for it. In short, get good with both pick and fingers, don't sod about with it, and remember you'll need both technique and taste to really fit in here.